Last month I again breathed life into my indie game development adventure, after a break of nearly 2 years. One of my intentions is that I will also write a monthly progress report of this journey that I am sharing on this blog. This is the first one (of hopeful many). I hope you will enjoy reading!
I have – as an indie developer – been involved in the game industry since 2011. It is true that my participation wasn't always big. But one thing is sure; I learned – the hard way – that the game industry is without any doubt one of the most competitive industries out there.
As a small indie game developer on mobile – where Free to Play (F2P) is the de facto standard – it is very hard to make a few bucks. Competition is fierce with every day more free game releases than any other type of app. After all, more than 20% of all available apps are games, more than double of the available business apps.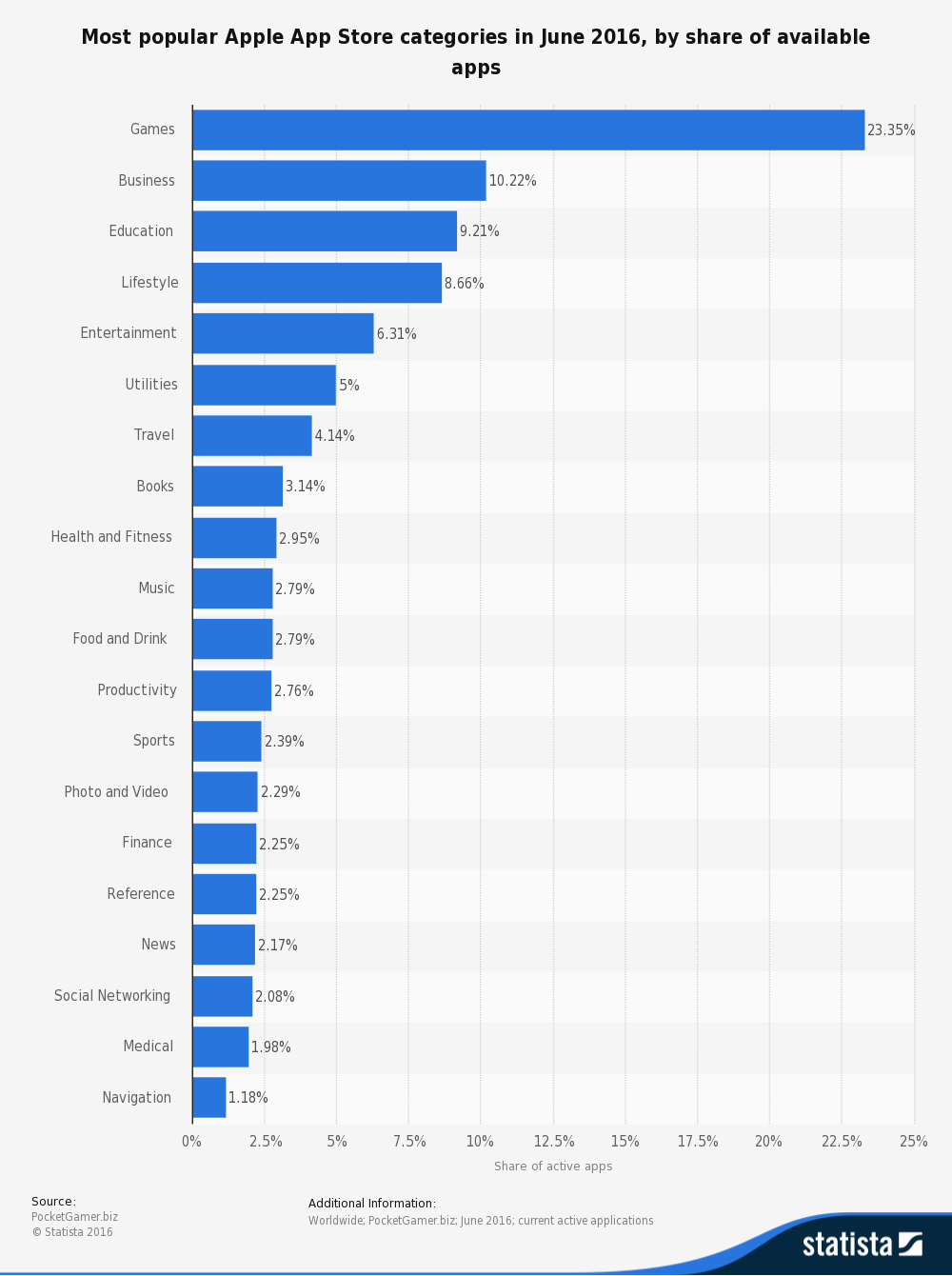 By writing these progress reports I hope to contribute my insights and lessons learnt with other indie game developers and studios. But this should not be a one-way communication. We can all benefit a lot more from it if you do share your thoughts in the comment section below.
Finally, writing these progress reports will also force me to reflect on the past month. Doing so I hope to get a better understanding of my progress towards my goals, to detect problems earlier on, and to be able to react faster.
The goal
Writing progress reports without explaining my goal first doesn't sound right. So here we go…
In the first place I am making games for the love of it. I very much love to learn new things. Combine this with my passion for mobile apps and you will realize that making mobile games is a perfect lab for me to experiment in.
But hey, that's not a goal, at most that is a motivation. Give me the real goal…
The real goal is to build a small profitable game studio for myself to make a living from. Of course, that sounds very vague and indeed it is very much like an "American dream". But, at this moment there is no need to set a more concrete goal. For what it matters, it just means that I need to work towards earning a few hundred euros per day.
Setting the first objective
You can say that I have a small head start as I already have a pretty good portfolio of games. There is no need in spending a lot of time developing a new game. I should be able to grow my game studio by other means.
Therefore, my first objective will be to increase my brand awareness. The "blugri" brand should stand for qualitative and fun casual games. It should ring a bell with players who like casual puzzle games.
The metrics and baseline values
Setting an objective is easy; achieving it is much harder and can often only be done by continuously monitoring and fine-tuning the progress. It is important to look at the correct metrics and KPIs.
But in a world full of analytics data, choosing and following the correct metrics and KPIs can be a very time consuming job. Time that I don't have! Therefore – for now – I will keep the metrics for tracking my brand awareness as simple as possible.
Let's have a look:
| | | |
| --- | --- | --- |
| | Current | Goal (31/12/2016) |
| WWW unique visitors | 487 | 1000 |
| Facebook page likes | 1493 | 3000 |
| Newsletter subscriptions | 79 | 160 |
In the future I intend to follow these channels and metrics in more depth, e.g. by keeping an eye on Facebook engagement or website bounce rate. However, I will intentionally not cover them in these progress reports, as they may explode on the amount of data.
The past month
In the past month I have spent my time mainly on the preparations. I replaced the CMS of my website and I worked on improving the cloud infrastructure of my website and game services.
Further, I prepared the roadmap for improving my current games by estimating the business value of new features.
Finally, I hired a designer to improve my logo, icon branding and newsletter templates.
In short, I did not do anything that had a direct impact on growing my game studio or brand awareness. Nonetheless, the work that was done is important, as I now have set up the means to communicate with my players and the community.
Plans for July
The real work starts in July. I plan to limit the time that I work for clients to only 3 days per week (currently it is more than 4 days a week) which will allow me to spend more time on my games. This should be enough to improve 2 of my games and release updates for them.
I will also try to bring my best performing game – Solitaire – to Android. And if time permits I will continue on finishing my new game Metro Flow; a game that was started two years ago, but still isn't finished due to lack of time and other priorities.
Conclusion
The future of my game studio looks bright again. I have laid down the foundation for building further on, and I have allocated more time to reworking my current games. Although the journey looks still long, the plans to reach the first milestones have been made. I do also feel very confident that in the past few years I have gained enough experience to force a couple of successful breakthroughs.
Still, I am very curious to see what I will achieve in the upcoming month. Are you with me on this journey?