Another month passed by very quickly, … too quickly to be honest. It feels like I wrote my last progress report just yesterday. Check out the new report for August 2016 in which I share my progress and experiences as an indie game developer.
At the beginning of the summer I was looking forward to a relaxing summer. I had decided to get my game development back on the tracks by reserving less time for client work, and more time on my game development.
But, it became very quickly clear that for a little while I had to put my plans back in the drawer as my client dragged me into a project that was well behind schedule.
We made it! The project from my client is back on track and mostly delivered. I wished that I could say the same for my own projects. In August I was again not able to spend the reserved time on my projects, even though I had adjusted my plans at the beginning of the month.
Luckily, I was still able to make a quite decent progress by smartly prioritizing the tasks, by outsourcing more than was foreseen, and by working even harder in my free time.
What I did in August
I worked many hours, but I have spent only 18.25 hours on my game business; 41% of it on my Solitaire game and 26% on my Sudoku game. The rest of my time was managing my business and the projects that were outsourced, i.e. the Spider and FreeCell games.
I was able to release an update for my Sudoku game with a better readable font and with the A/B tests for the icon variants. I also made my Solitaire near ready for release and I oversaw the outsourcing of the Spider and FreeCell games.
The only task that I had planned and that I was not able to start is the improvements on the sitemap. While important, I do not really see it as a big issue that it is delayed.
The metrics
Before having a look at last month results there is one important comment: I have experienced server problems that I hadn't noticed for 8 days, resulting in a huge down time for my website. I feel quite bad about not noticing the problem earlier.
The results for the second month are:
| | | | |
| --- | --- | --- | --- |
| | July | Current | Goal (31/12/2016) |
| WWW unique visitors | 407 | 400 | 1000 |
| Facebook page likes | 1507 | 1521 | 3000 |
| Newsletter subscriptions | 80 | 81 | 160 |
At first sight the results look not very good, and to be honest I doubt that I will reach my goal for 2016 for the Facebook page likes and the Newsletter subscriptions. It is clear that I will have to find new ways to promote these channels if I want to grow them faster.
However, a closer look at the statistics for my website are looking promising.
Firstly, we can safely assume that the results for the website would have been at least 15 – 20% better without the down time of my server.
Secondly, as you can see from the image below, the major metrics do have a positive trend.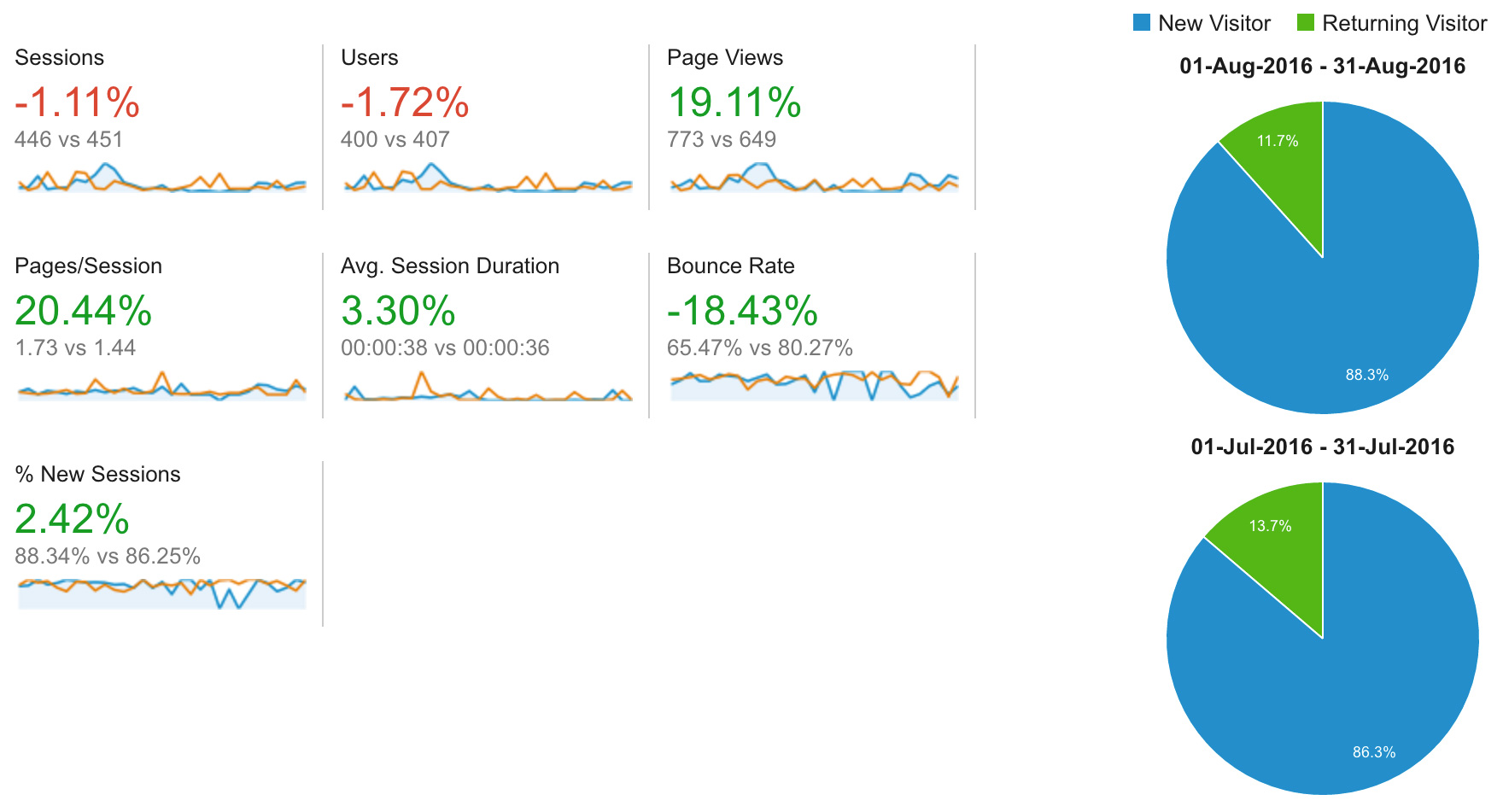 Most important, the Pages/Session and Bounce Rate percentages are looking very promising. For the first time I can say that my website seems to provide valuable content for its visitors.
I don't wish to jump to conclusions too quickly, but it looks like my efforts in SEO and promoting my website are already paying of. To be honest, this is quicker than I had hoped for.
Plans for September
September will again be a very busy month for me. I do not want to shoot myself in the foot again, so I will maintain 4 reserved days for my game development activities. Nonetheless I plan to close some important milestones in September:
Complete the A/B testing of the Sudoku icon variants.
Complete the development of my Spider and FreeCell games (outsourced)
Release my solitaire game on android.
Fix the sitemap on my website.
Besides closing these milestones, I plan to implement some new ways to attract more Facebook page likes.
Conclusion
It is still very early to make any conclusions based on the collected metrics.
For sure I will not meet the set goals for my Facebook page likes and Newsletter subscriptions. Adapting the goals would be cheating, so I will try to find new ways for making these channels more attractive.
On the other hand, the metrics for my website are looking very positive. I feel very confident that the set goal for my website can be reached.
With much curiosity I look forward to September. Bearing in mind that this summer I was not able to spend as much time as I wished on my game business, by the end of the month I should still have made a very good progress.