Not so long ago I picked up again my game developer activities. Since then, the first quarter passed and a lot of things happened or didn't happen. In this progress report I look back on last month, the good and the bad.
After a rather disappointing start due to some setbacks (more on this in the progress report of July and August), I can say that September was a good month. Although I hadn't planned a lot of things, I managed to finish more work than planned in less time than was foreseen. No need to say that this gives a pretty good feeling.
What I did in September
I hadn't planned a lot for September, so it was not too difficult to actually spend most planned hours. I worked in total 26 hours of the 32 planned hours. It is still less than I had planned, but nonetheless I managed to finish a few important tasks:
Website: Although I do foresee other improvements in the future, I can close the development of my website for now. I corrected a couple of important bugs, including the strange behaviour of the sitemap. The website is finished as I had planned it for the first release.
Solitaire games: Both my games "Solitaire" and "Spider Solitaire" are ready for release on Android. All the bugs have been fixed, but still I decided to postpone the release because I want to implement a couple of other small improvements first.
Sudoku: I released an improved version of my Sudoku game, including a better readable font. But the most important change is that I fixed the game analytics, providing me better insights on player retention.
The A/B tests for the Sudoku icon is still running since I was not able to collect enough data. The Google Play store is not yet able to provide a conclusive decision. Although I could make a decision on my gut feeling, I prefer having it confirmed by objective analytics from Google.
The metrics
Admitting that there is no real change compared to last month, I gathered some new insights regarding my website. These are the raw results for September:
| | | | |
| --- | --- | --- | --- |
| | September | Current | Goal (31/12/2016) |
| WWW unique visitors | 400 | 457 | 1000 |
| Facebook page likes | 1521 | 1525 | 3000 |
| Newsletter subscriptions | 81 | 81 | 160 |
The trend on my website metrics is still positive, but most readers are still acquired by advocating my blog posts on Social Media channels. The segment of readers acquired through organic search is too small and not growing.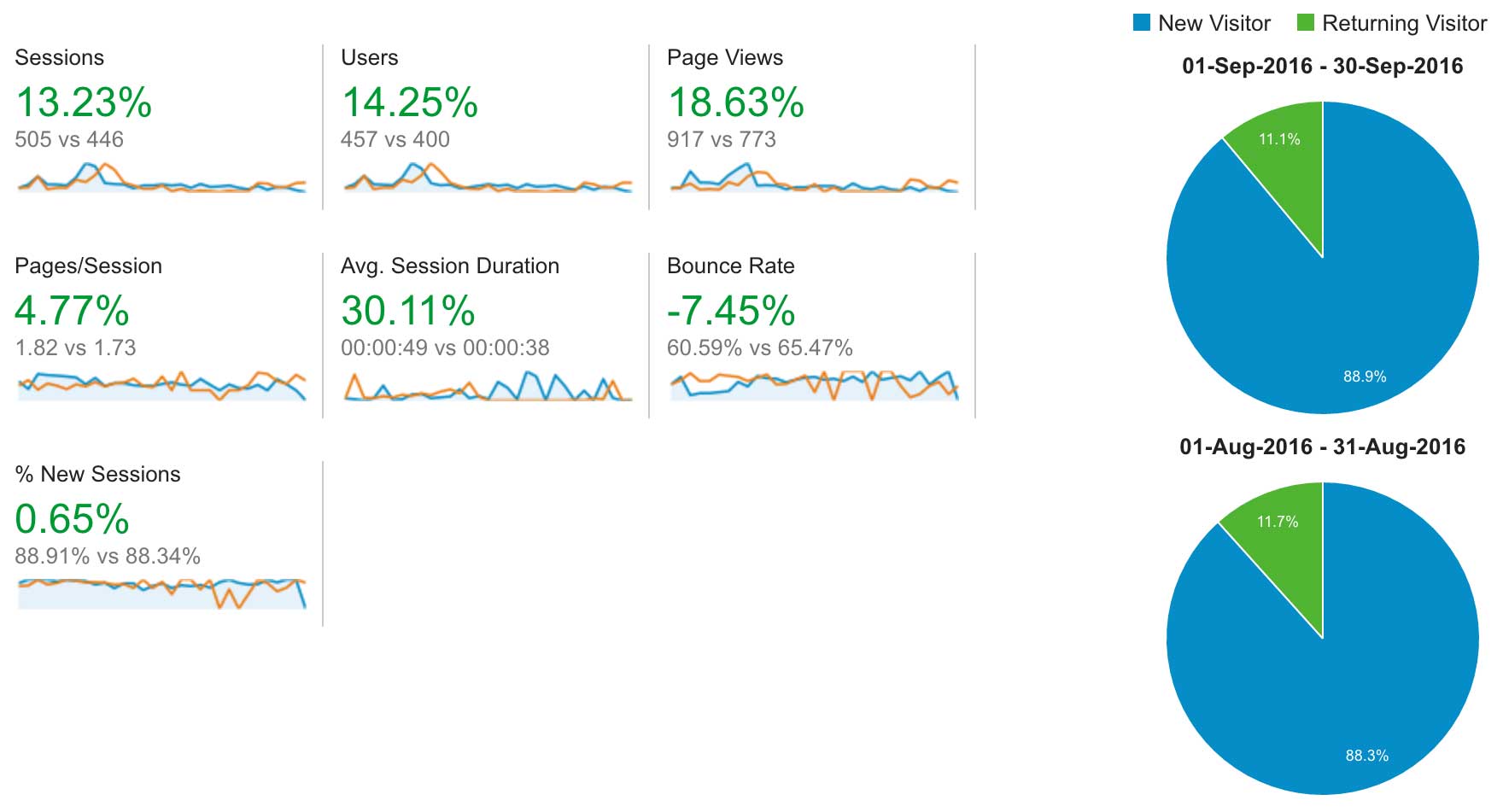 Both Facebook likes and Newsletter subscriptions are still slacking. I will need to invest more time in these channels
Plans for October
Not much… I have planned a 2,5 week holiday with my family, so there is not much time left to do other things. My only task for October is to clear my thoughts and to let my brain come up with the plans for the future. That sounds easy enough and my experience is that holidays are very efficient for this task :-).
Everything else that I manage to do in October will be considered a bonus.
Conclusion
September was a pretty good month. The little time spend on my games was very productive. I finally managed to close some important tasks. It feels good that I can finally move on with new things.
Acquiring new readers for my blog will still require a lot of energy, but I still have the feeling that I know how to handle it. The following months will prove whether or not my strategy is paying off.
On the other hand, growing my Facebook likes and Newsletter subscriptions has proven to be quite troublesome. I will need to come up with other strategies for these channels.
But now it is time for my holiday. I am sure that I will have a lot of new ideas after it.
I hope that you liked this blog post. Please let me know how I can improve it to be more useful for you.