The month November can easily be described in two words: bad luck.
My planning was solid and I started off the month good. It looked like I would be able to make a decent progress in November. But there was one thing that I hadn't counted in: I catched a seriously bad cold which got out of hand and resulted in a lot of unproductive days. Unfortunately these things happen, and as a one person company you cannot really guard your planning against it.
Solitaire release
My only achievement for November is the android release of my Solitaire game. I intentionally chose for a soft release, as there were still some improvements to be implemented. As a result the download numbers are really low with only 31 downloads in November.
To be honest, I had more or less expected these download numbers. It is kind of a surprise that people can still find unpromoted games and apps at the bottom of the charts.
More ASO
I do not really see the launch of my Solitaire game as a failure, but as an opportunity to get more proficient with different App Store Optimization (ASO) techniques.
Although many ASO companies claim that App Store Optimization is the key for success, I am still quite reluctant to it. App Store Optimization is something I have experimented with in the past without much success. But that was on the Windows store, so let's see if I can achieve more success on android. After all, the Google Play store provides quite some useful tools such as store listing experiments, conversion rates benchmarks, and in depth user acquisition metrics.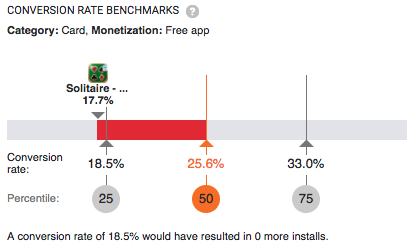 Google Play conversion rate benchmarks
November KPIs
The KPI numbers for November are in line with last month. The decrease in active Sudoku installs is explained by the fact that I have bought quite some promotion for the game in the past. At this moment the organic installs rate is lower than the uninstalls rate of the previous purchased installs.
Retention numbers for Sudoku are more or less the same as in October. This is no surprise as there has not been any major update on the game.
The KPI numbers for November 2016 are:
Active Device Installs
Ratings
Avg Rating
D1 Retention
D7 Retention
D30 Retention
Solitaire (android)
13
3
3.667
7.00%
--
--
Sudoku (android)
5203


-7.79%

375


+6.23%

4.301


+0.02%

12.74%


-9.45%

6.77%


-43.25%

6.96%


33.33%
What I did in November
A lot less than what I had planned, but I managed to finish:
First release of Solitaire on android
Many improvements on Spider Solitaire
Writing my blog post on App localization (however, I decided to not publish it yet)
Plans for December
December is a busy month with the Holiday season and many things that need to be finished before the end of the year. I currently do not have a clear view on the amount of time that I can spend on my game business, but my task list is pretty clear. Finish the things that I could not cross off in November:
Beta release of Spider Solitaire and circuits on android
Publish the new blog post on app localization tips.
Full move to Azure cloud
On top of this I plan to start with ASO experiments on my Solitaire game. The first experiment will be the fine-tuning of the store listing description.
Conclusion
December will be the month in which I will try to clean up some tasks that weren't completed in the last year. Finishing these tasks will give me extra motivation for the 2017.
I am also pretty excited about my ASO experiments. Finding free ways to improve the download numbers do always give much satisfaction.